Everyone who fundraises for Camp Simcha is incredible, whether you're getting your hair cut to raise money, hiking the Freedom Trail, organising a netball tournament or taking part in our Digital Detox. Whatever you do, thank you!
Recently some of our fundraisers have gone the extra mile, actually the extra 12,000 feet, jumping out of a plane to raise money for us.
Check out the video here of the incredible Sarah Barnett skydiving for her 70th birthday.
Sarah was featured in the Jewish News with her high flying feat
More amazing jumping from the skies by Hannah and Rachel Goldstein who raised £2700 jumping from a plane. They also made the press when the Jewish Chronicle featured their achievements.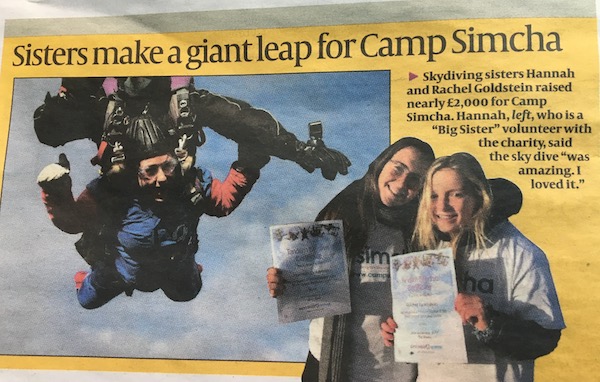 You can see the video of Hannah jumping here and Rachel here.
If Sarah, Hannah and Rachel's feats have inspired you to fundraise for Camp Simcha then please get in touch by emailing Sarah Jayne